Application Mover does not automatically assign itself 'administrator level' program rights. Windows Vista and above will prompt for extra access rights each Application Mover it is run (see below). You must allow the program to be run "As Administrator", even if your user account is 'administrator'.
Alternatively run Application Mover 'As Administrator' by:
1) Right click on the Start Menu shortcut for Application Mover and select "Run As Administrator";
2) Navigate to the folder where Application Mover is installed (C:\Program Files\AppMove is default), right click on 'AppMove.exe" (or "AM64.exe" for 64-bit installation)and select "Run As Administrator" from the Explorer right-click context menu.
Either of the above will cause the computer to issue a prompt similar to the below. Click on "Yes" to allow the Application Mover the necessary access rights.
Sample User Account Control Prompt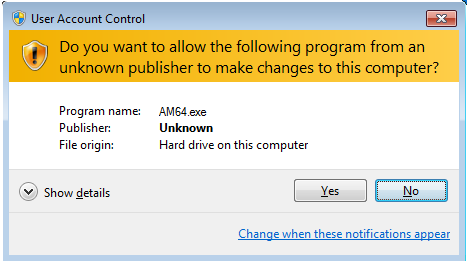 ---
[Back] [Home]
© 1995-2020 Funduc Software. All rights reserved.
http://www.funduc.com
http://www.searchandreplace.com
Send comments to webmaster@funduc.com