Resource Translation Toolkit (RTT)
Resource Translation Toolkit (RTT) is a utility meant to simplify translation work on po, rc (Windows API), resx (.Net) and properties (Java) files. The program runs on Windows Vista, Windows 7, Windows 8, & Windows 10. It is also also compatible with fully patched Windows XP computers as of the XP 'end of life' point. Separate 32/64 bit version are available. The program is Unicode enabled so Asian languages are supported seamlessly. It uses a Translation Memory (.tmx or .pot format) containing unique translated strings to generate translated assemblies, DLLs or catalog files (.mo or Java resources).
A Translation Memory (in .tmx or .pot format) serves as a basis for translating .rc, .po, .resx, or .properties file(s). It can be created or augmented with new strings from these files. Only unique strings are added to the translation memory after mnemonics, whitespace and accelerators are first removed. This can significantly reduce errors and tedious repetitive work. When strings are delimited into separate lines or by tabs, they are treated separately, thus simplifying work even further.
To add strings for translation to Translation Memory from one or more .rc, .po, .resx, or .properties file(s), use the Add strings to translation memory function from the program's Translation Menu.

After work has been completed on Translation Memory, to translate a new file, select Translate Resource Files from the Translation Menu. The program compares strings found in 'Translation Memory' with the file to translate. Resource Translation Toolkit identifies possible matches and presents a list of suggestions. If you accept a suggestion, the translation is inserted into the new file, along with the mnemonics (if possible), punctuation and shortcuts, and the program then moves on to the next string. When translating Windows RC files the DLGINIT blocks are also interpreted and translated.
Resource Translation Toolkit Sample Screen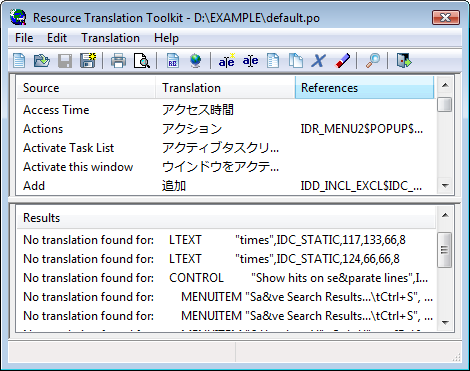 Change Notes:
April 18, 2011: Command line switches added to pass the source file, target file, Translation Memory file on the command line so the program can now process files via a .bat file. An optional results file can also be specified with verbose or not reporting.
Dec 20, 2009: Previous/Next Untranslated item menus and toolbars; items not found are displayed in the results list regardless of Details setting.
Sept 21, 2009: Support for international interface added; Change to handling for <> placeholders; Copy now puts \n between lines.
June 07, 2009: Improved handling for Japanese code page.
May 03, 2009: 'Edit Translation Item' dialog resizing is remembered; Clear comments now works as advertised when there are no translated items (it also clears references); Combo boxes with memory for the paths in 'Translate Resource Files' and 'Add strings to translation memory' functions; Html tags are stripped if they precede and are at the end of text.
May 11, 2009: Print & print preview improvements.
May 01, 2009: The program now reports (or not) 'Additional Details' when translating resource files.
April 30, 2009: Support added for .resx and .properties files; Improvements to functions for adding strings to translation memory; Support to multiple files in a single pass and output results to a separate path so the original files are preserved.
April 6, 2009 - Improved handling for large tmx files; Translate PO file now prompts to output a new .po file, with translation results listed in the Results; Printing and Print Preview fixes; Find function now working correctly.